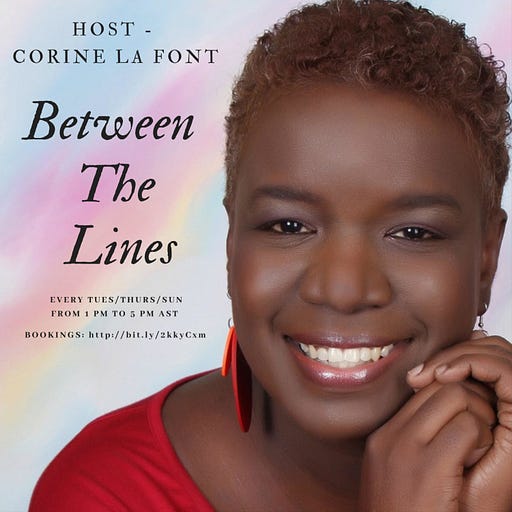 Sep 1, 2021 • 36M
The 411 On Writing Self Help Books
With Michelle Sfakianos
Join us for discussions on Self Publishing, Marketing and Business, Life Lessons and Career paths. We welcome, Authors, Coaches, Speakers, Entrepreneurs, Motivators, Empowerers and Inspirators! Book your 30 mins spot at http://bit.ly/2kkyCxm Broadcasting from the Caribbean! Support this podcast: <a href="https://anchor.fm/between-the-lines-network/support" rel="payment">https://anchor.fm/between-the-lines-network/support</a>
Have you ever wanted to write a self-help book but don't know how? On my radio show, Between The Lines, I had the pleasure of interviewing Michelle Sfakianos back in 2013. She shared some tips on what it takes and how to transition into writing self-help books, some preparation strategies when marketing self-help books and how to determine what niche market to write for and much more.
You don't have to be an expert to write a self help book. Go back to your own experiences and even the experiences of others. Most of all, write on an area that you are most knowledgeable, skilled and comfortable; that if asked, you can speak with a sense of confidence.

If you want to write a book on something that you are confident in, that you feel is very close to your heart or passionate about, then it makes it easier to do the research to write the book. Research is key. Support and supplement what you know with interviews from subject matter experts on the topic.

When writing a self-help book, you want to write it as if you are speaking to the reader i.e. conversational language. Your audience has to feel that connection or that experience that you are trying to portray in that book. Try to avoid using too many elaborate words that they will have to look up in the dictionary

Get to the point ! Keep it easy to read and concise. Readers want to get the information quickly so they do not need to read a 300+ page book to get the answers or solutions to their problems. Keep in mind, that doesn't mean to compromise the value and quality of your work.

It is very easy to put a book out today but you want to make sure that your book gets that good reputation by being properly edited by a professional. Ensure that people aren't finding misspelling, typos and grammar being utilized incorrectly. So you want to make sure to pay for that professional edit. The reading public can be quite critical and you have to be very careful in the wording that you use even for your title to reach your target audience; the interior and the formatting. You have to be so meticulous as authors, aspiring and even established have to be careful and not be in a rush to compromise not only the quality of the book but also your reputation in the end.
The following is the edited transcript of our conversation. The audio has also been provided or your listening pleasure (use a headset for an improved experience).
Michelle: You know I have got to say with the internet, you can look up just about anything you want. The problem with that is; for example, there are a lot of times people will look up a medical condition and they will read everything about it and go to the doctor and say, oh my gosh, I might have this problem or this disease but the thing is, they didn't check the validity of the source who posted the information. Anyone can post anything on the internet. It doesn't necessarily mean it is true. So when you are doing your research, you need to make sure you validate the source. Using the example, are they a medical doctor or a nurse? Be careful when publishing that information because when you publish a book and use that information as a reference or quote, that can be misinformation which can be proved and can result in you losing your credibility.
Corine: I totally agree!How can someone determine what niche market to write for? There are persons with a particular skill, for example, your background as a parent or nurse but you don't feel as confident to speak in that particular area or you may feel there is no demand or interest for that area. What are your thoughts on an approach to getting your book out?
Michelle:  I wrote all of my self-help books based on personal experiences my own or from those around me. One of the things I did was to talk to my friends. I told them I was considering writing this book. My daughter was getting ready to move out of the home and I was really concerned whether I taught her everything she needed to know to not only take care of herself but my grandson as well. I always wanted to write but wasn't sure what to do, so I researched on the internet about life skills courses. I really feel that even though there may or may not be a demand for what persons wish to offer right now, maybe people don't realize they need that information. I feel that if you have a passion for it, write about it.
Corine: Yeah, I say follow your passion, you want to write about something, follow your passion and make sure that you do the necessary research and speak to experts to get the editing done; professional editing. Don't compromise on the quality.  
Here's another concern Michele. Person listening to us may feel a bit apprehensive and say Michelle is a nurse, she has an RN and BSN and so on.  They might have not have letters behind their name to demonstrate expertise. Could they really produce or publish something without really having letters behind their name?
Michelle: Yes! Every author doesn't have certifications or letters behind their name. They are just regular people, like you and me. I just have a real passion for making sure that I get good information out to people that really need it.
Corine: And how has your book being doing so far?
Michelle: Actually my books are being well received. The 411 on step parenting has won several awards and the 411 on surviving teen-hood since it was just released, so far it has won two awards.The life skills book has done very well and won awards as well. The key is entering contests and marketing. Even if I were to have been picked up by a large, popular, well known publisher. I would still have to do my own marketing.
Corine: Of course, of course
Michelle: I attended a book festival and a gentleman walked up to me and asked if I had any connections.  I gave him some information but he made it clear he just wanted to put his book out there, have it published and then just sit back and collect the cheque
Corine: Really?
Michelle: After I stopped laughing, I said that is a great idea. When you find out how to do that, please let me know.
Corine: I was just about to say that.  
Michelle: I stood there and explained to him you have to develop a website or pay somebody to do that. You have to get on Facebook, Twitter and LinkedIn. He had a questioning look to say, what are those? He indicated he has this great manuscript. I remarked, "wonderful,  but I really suggest you read some books on social media and marketing because it is your responsibility"
Corine: Of course your book is like your baby but just like a child, you don't just have the child and say, here world take care of the child and I will just sit back and reap the benefits. If there is a formula like that, I would love it.
Michelle: I would too.
Corine: The thing is you have to work hard at parenting and you have to work hard at promoting and marketing your book. You have to work hard as you said, entering competitions and awards. I would be interested in knowing though Michelle what awards did you enter and how did you find out about them?
Michelle: Well, I belong to a lot of different websites and I subscribe to their feeds. I am also a member of the Independent Book Publishing Association and they let you know of all the different contests and how to enter. For example, I have received honorable mention in the New England Book festival and in the 2012 USA Best Book Award, I was a finalist for parenting and family. The Living Now Book Awards, I was a gold winner for family and parenting. The surviving teen-hood book, most recently the Los Angeles book festival general nonfiction was given honorable mention and the great south east book festival, I was the runner up in the 'how to' category. The 411 life skills book was a winner  in the reference category for the Indi excellence book awards as an independent publisher. I was just very proud of that award as well.
Corine: Oh, wow! For the benefit of the listening audience, what do these awards do for you Michelle?
Michelle: It gives you credibility. It builds on your expertise to show that you're an expert as  your ability is being recognized to give out the right information. So the more you enter, you never know who will read your book or see the actual award. Promotion gets your name out there and that's one of the biggest marketing activities an author can do right now. You have to get your name out there and you have to get well known.
Corine: And can I just add to that, even if enter and don't win a contest or award, someone may see your book, read it and you never know what relationships can come from it like a business collaboration. So the visibility of being in the competition can take you further places than you would even expect. It is also another really important thing to do interviews such as what we are doing now, podcasts. You have radioguestlist.com . There are a lot of different people looking for information on different subjects and when you sign up, you can pitch them your thoughts and they will contact you for the interview, once you're a fit.
Corine: I also entered my book in the Small Business Book Award. This is an international award where people vote for you/your book as one they recommend that persons should read in the business community; like Managers, CEO's and their staff. I just got word this morning the voting ended yesterday, so when I logged into my computer, I saw my name there.
Michelle: Isn't that a great feeling! Congratulations. I saw that on Facebook. That's incredible and it's a great award.
Corine: It is, it is. I entered in two categories: Marketing and Resources. I didn't win the one for marketing but I won under the resources and that makes me feel so good because resources are really for people who support authors in the publishing industry and that's what I do. I feel so proud of that award now that I can put my gold seal on my website.
Michelle: Right
Corine: I am just so looking forward to the added visibility, networking and potential collaboration that can come from it. Some people asked if I won money. It is not about the money. Everything cannot be about the money. There are more important things than the money that can even lead to money down the road so we have to take that into consideration. What are your thoughts?
Michelle: Oh yes! If you are going into writing to make a living, be very careful. There is an awful lot of competition out there and it is not something that you can start making a living off right off the bat.
Corine: I would suggest writing be your passion. It can be an activity on the side of your 9 to 5 or business. I would also suggest to persons to set up a business behind their book. The book is like your business card. It gets your foot in the door. You really can't get rich off writing books. Those authors who are best sellers and got movie deals got rejected several times before they made it!
Michelle: Yeah
Corine: Several, several times and so there is hope for all of us.
Michelle: You never know
Corine: Michelle you can even take your 44 series into a sort of television series for example tips for parents. We need all the help we can get! Michelle, how can someone out there get access to your books?
Michelle: The books are available at this link
Corine: So this is good Michelle. We can talk all day. I want to thank you so much for being on the show today and I am sure that our listening audience can safely say they walked away with loads of tips that they can implement right away or at least start putting some thoughts into action. I am also sure that as a side benefit they have learnt some creative ways of connecting with their children through your book.  
Corine: Yes, so Michele I would encourage listeners to go out and get a copy of your books because these are topics well needed because there is no parenting school or university out there.
To my audience, I want to thank you for being here and staying with us throughout the show. Your loyalty is appreciated. Michelle is there any final words you want to leave us with?
Michelle: Just follow your passion and you will never work a day in your life
Corine: That is a great way to end. Connect with me your host Corine La Font on Between The Lines. Feel free to book your 30 minutes spot and impact the world one life at a time.
There is more to come from Michelle Sfakianos and 21 other experts in a follow up post for paid subscribers, so keep an eye out. It includes workbooks and training audios